Sharing The Christmas Spirit
Raffle Tickets now on sale.
Dance tickets go on sale October 15.
Hamper Registration Opens November 1st.
Our program was started in 1988 and continues to provide food hampers to more than 500 needy families in the Comox Valley, BC.
Each one of our hampers consists of 21 different non-perishable items as well as perishable items, including a complete turkey dinner for the family as well as a toy or gift for each child in the family. We accept registrations from individuals and families that are in need of a hamper, we then sponsor that family out to either a school, business and/or individual that have generously registered with our program to make a hamper for a specific family or individual.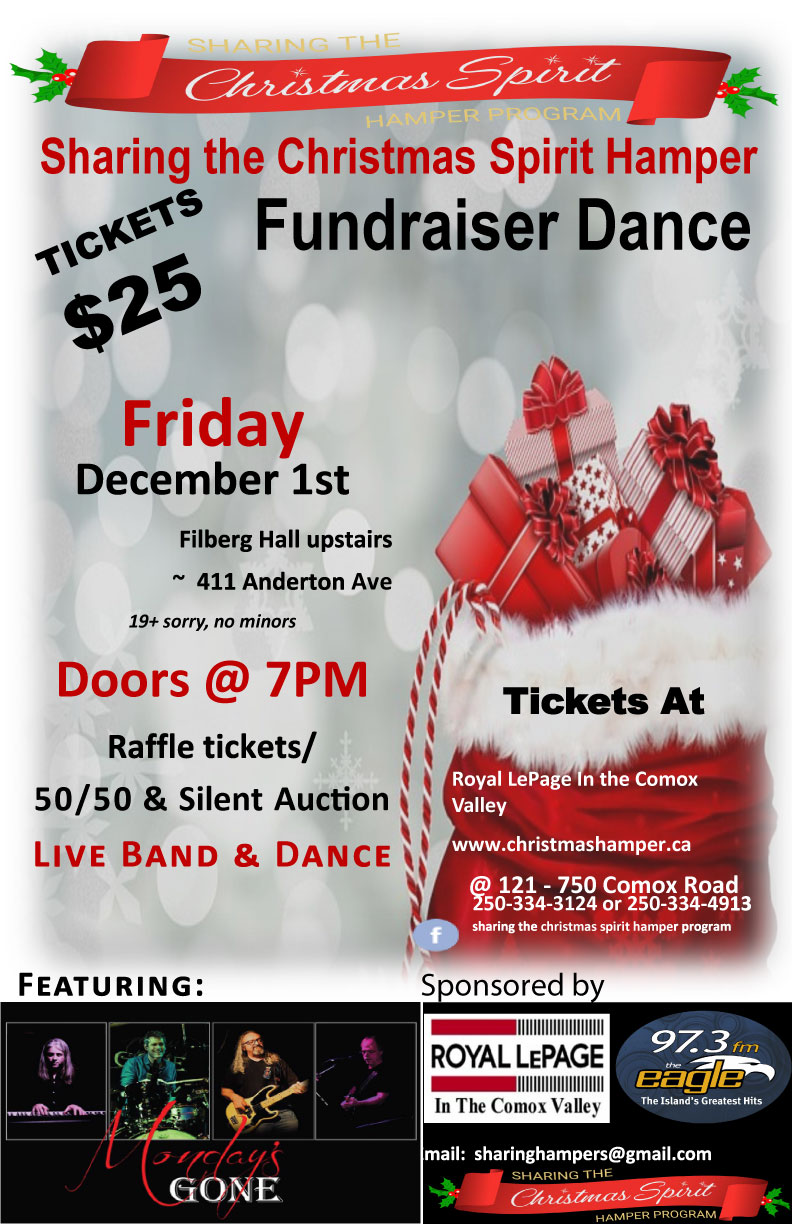 Sponsor A Family
Here's your chance to give back to the community that has given us so much. With more than 500 families supported annually, your donation can make a huge difference for a family in need this Christmas.
Register For A Hamper
Visit our Support page and fill out our form to register your family for the next hamper delivery.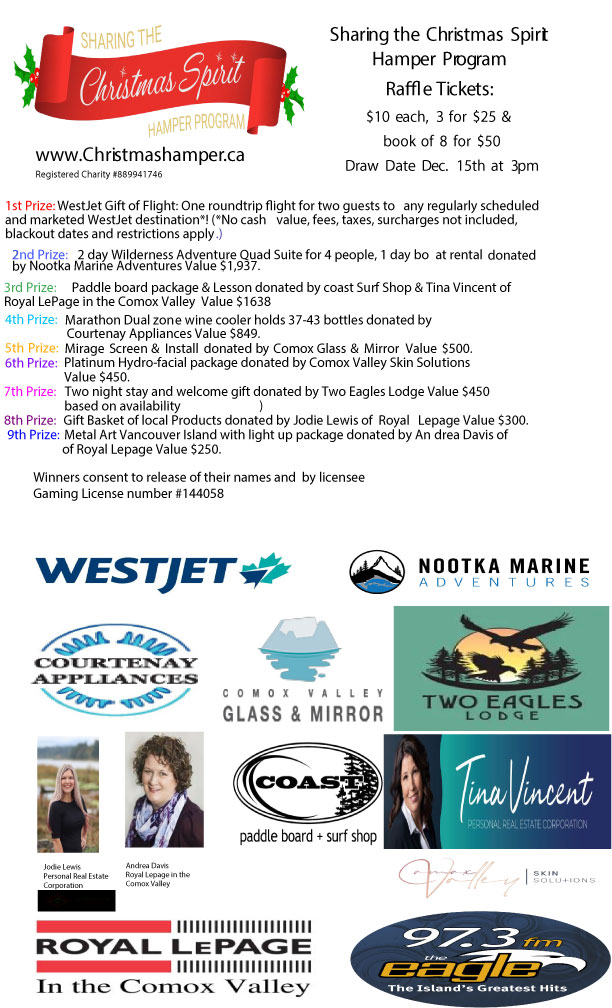 Raffle Tickets Available
Purchase your annual raffle tickets to help support your community and the chance to win some fantastic prizes! Tickets go on sale October 1st.
Supporting The Comox Valley, British Columbia
Our program supports families in need across the Comox Valley, from Black Creek to Fanny Bay.
Serving the Comox Valley since 1988
Preamble:
Our non-profit charity, through funding/sponsors, donates in excess of $100,000 worth of food every Christmas for over 500
of the neediest families in our community—the majority of whom live in Courtenay. This just shows the incredible community
support we have, year after year, having garnered respect and appreciation for helping the needy at this special time of year.
History:
The program was initially started by Tucky Schellinck, whose husband was the first (?) principal of Vanier Secondary High
School. She did the program out of the basement of her home 7/24, 365…When she no longer was able to, my
predecessors at Block Bros. in 1989, took the concept and turned it into a once-a-year Christmas time hamper program. The
program was subsequently run through the administration of Coast Realty and most recently, Royal LePage (RLP). In the last
few years, we've provided hampers to 100 singles, and 450 families, for a total of 550 recipients each year at Christmas.
Process:
At the beginning of November, we open up the "Hamper Hotline" phones whereby families and individuals in need may, in
confidence, ask to be put on our list of hamper recipients. As well, sponsors phone in to offer to take on one (or more)
families, or in some cases, money or goods/services in kind. We have close to 1300 snap-lid totes, which we
provide—minimum 2 per family–to sponsors to use to fill with the pre-established list of 21 dry goods, prezzies for the kids,
plus $40 (per family) they provide us separately, used to purchase fixin's—turkey, milk, veggies, fruit– for Christmas dinner.
In Conclusion:
We always leave the donated space at least as clean as provided, usually cleaner. Many of our core volunteers—some
who've been involved since the beginning!!!—are very dedicated and current or ex-military, so the whole operation is
organized, systematic, efficient, and always with the awareness of whom the main beneficiaries are: 550+/- needy families.